Thanks to Boston Sails for donating this tea party trophy, probably back in 1960. Carrie and I won it last year and Bill and I won it this year, despite our best efforts. We were winning the regatta several times in the last race. Let me start from the beginning.
Leaving home was bitter sweet with a 2 week old baby. I thought that I would get some much needed sleep, but I did not want to leave Carrie and the kids. It turns out I've forgotten how to sleep and it was not until I got to Texas that I started to feel a little bit rested. The weather in Texas was beautiful though. Temperatures in the low 90s is not bad when there's good breeze.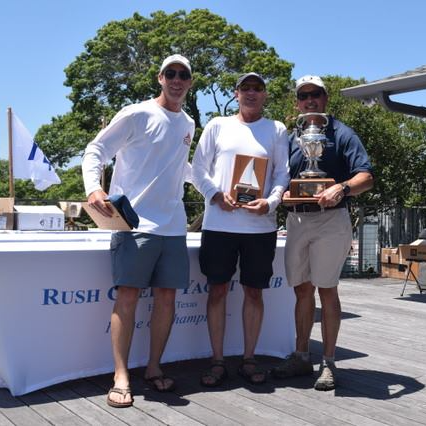 My crew for this regatta, Bill Bruss, normally sails with his wife, but she could not sail with a recent shoulder injury. Bill and I had never sailed together before, but he normally crews and I normally steer, so we knew our jobs. We did prepare via many emails and conversations about how we would handle certain situations and who would do what. We ended up both flying the spinnaker down wind, just depending on who was feeling it. We were a true team, and accomplished our goal of simply having fun every race. Best of all, we sailed like rock stars.
So it came down to the last race between us and Zeke Horowitz. While Zeke had 1 point on us, we only had to beat him and finish 1 or 2 to win the race. Otherwise we would need to get a boat in-between us to win. We certainly needed to keep an eye on Jeff Linton 4 points back and Kelley Gough 6 points back.
The race started in slightly lighter wind, and we did not have the boat up on the line due to the lack of wind. It was a painful start, but we found a lane of clear air out just as a boat was about to sail over us we lee bowed them into our lane. Low and behold, it was Zeke, he did not start that one well either. We traded places several times up wind, and rounded in 3rd or 4th at the windward mark. Zeke got stuck going right by a boat below him down wind and we were able to gybe to the downwind left for more breeze. At one point I thought we would bury him. However, a small puff rolled in for him as we had to gybe and sail through the middle for the mark. There was no breeze in the middle and we once again rounded right behind Zeke. He was able to push us back by tacking on us upwind and we rounded 100 feet behind. I told Bill we would be making them pay down wind and that's just what we did. We came roaring in on a plane and rolled over the top of Zeke and Jeff Linton in 2nd place position by the leeward mark. The Bad news for us is that we could not establish overlap at the leeward mark and Zeke rounded ahead for the last leg. Needless to say it was a grueling tacking duel up the left. We were confident in the left and Jeff was on the right so we proceeded with the tacking duel, but to no avail. We did not lose any other boats in the regatta and won the 2nd place Nationals Tea Party Award.