RECONDITIONED BOATS - FIVE YEAR NEW BOAT WARRANTY
Factory Certified boats come with a new boat warranty. They have been thoroughly inspected and repaired by the factory. More pictures are available upon request.
FS 5837:
Rigged to race with sheets on deck. Good sails, 2 year old main and jib, with crispy Schurr Chute. Boat comes with Motor Mount, Trailing Mooring Cover, and Load Rite trailer that has new hubs and good lights. The boat has just been buffed out at the factory, parts were replaced as needed and she's a beautiful boat. Including a 5 year limited warrant, same as on a new boat. She's tuned and ready to go.
$20,000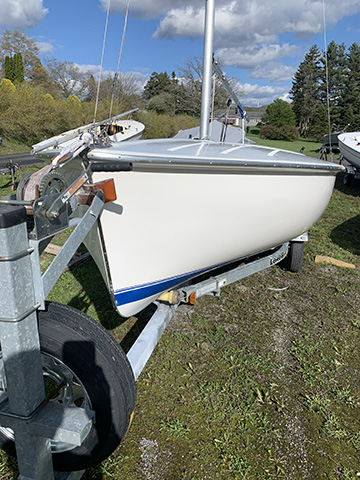 USED BOATS - FACTORY INSPECTED- AS IS, NO WARRANTY
Brokerage boats are as is with no warranty. Flying Scot Inc is merely the listing agent on these boats. We can also advise on these boats as we do require them to be here at the factory for inspection with signed titles in our possession. We, the factory would never list a boat that was not sound. We also have more pictures available upon request.
FS 1286: Originally built in 1968 and factory refurbished in 2015.  The boat is in great condition and is rigged for daysailing.  Hull is light blue with a white deck and waterline.  The sails are in good daysailing condition. The boat comes with a new tiller, a new jib halyard, a spinnaker pole, and all running rigging but no spinnaker or sheets. It also comes with a very nice air cooled Honda 2 horse power 4 stroke engine. The engine has been well maintained and has less than 4 hours of run time. A North Trailing Mooring Cover that is in good condition is on the boat. A 2016 Trailex aluminum trailer is with the boat.  This is the model with the reinforced coupler and has less than 1,500 miles on it.
$12,500