USED BOATS - FACTORY INSPECTED- AS IS, NO WARRANTY
Brokerage boats are as is with no warranty. Flying Scot Inc is merely the listing agent on these boats. We can also advise on these boats as we do require them to be here at the factory for inspection with signed titles in our possession. We, the factory would never list a boat that was not sound. We also have more pictures available upon request.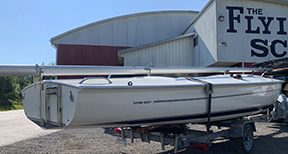 FS 5268 - SOLD
Built in 1999, and like new! - All-white with navy stripes and no bottom paint.  Rigged for daysailing with only one owner. Stored inside, and shows no signs of use, except for in the sails, which are still in excellent condition. The boat is of course solid, and comes with a very nice North Trailering/ Mooring Cover. The boat is sitting on a Long trailer, that is of course in excellent condition. 
$14,900
FS 5306 - SOLD
Built in 2000 – Ivory deck with new white deck tread. Navy blue hull and red stripes.  Red bottom paint in good condition. The boat is rigged for a spinnaker and could be raced well as it does have a 12:1 vang. It comes with a very nice 2016 Trailex trailer and a 2016 yamaha 2.5 horse outboard with motor bracket. For covers, it's coming with a 2016 North trailering/mooring cover in good condition as the boat was stored in doors since 2016. The boat also comes with a blue tent cover with good bungees. For accessories this boat has a main sail floatation, new 3:1 mainsheet, 12:1 vang, 2 anchors, the PALM and lifting bridle. Finally the sails are all racing sails with about 25 uses on them. The main and spinnaker are still crispy, but the jib shows more use. 
$13,900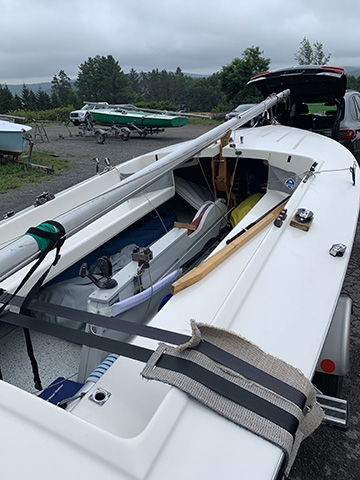 RECONDITIONED BOATS - FIVE YEAR NEW BOAT WARRANTY
Factory Certified boats come with a new boat warranty. They have been thoroughly inspected and repaired by the factory. More pictures are available upon request.