Sailing at Different Venues
We are blessed in many ways with our job and one of the greatest blessings we have is to meet the wonderful people all over the country who sail Flying Scots.  I recently had the pleasure of delivering a new Flying Scot to a wonderful couple – Steve and Barb Kramer and I would like to share with you about the adventure we had daysailing out of Vermillion Boat Club. The story began almost 9 months ago, but let me jump to the end as my wife, Carrie, and I are going to be having a child in the next 2 weeks and time is of the essence.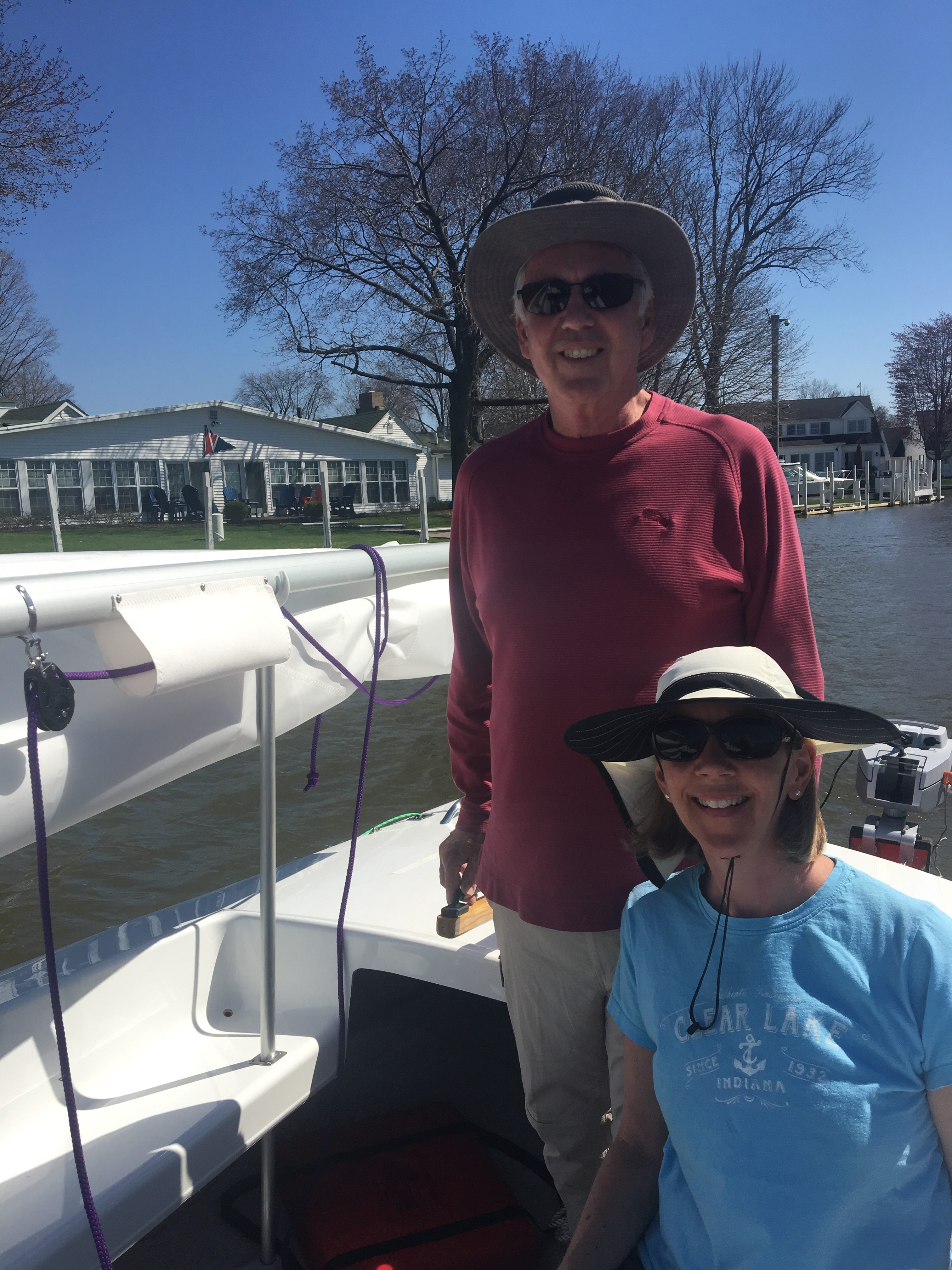 Steve and Barb ordered their new Flying Scot for delivery to Indiana. Fortunately, Barb is a labor and delivery nurse and when discussing Carrie's progression she spoke for Carrie and said that I cannot travel that far from my pregnant wife. "Steve will meet you half way," she said. Naturally, my next thought was where is half way? I decided on somewhere around Vermillion, Ohio – a place where I've done some growing up, where the first factory of Sandy Douglass was located, and where my good friend John Shockey lives. My next call was to John and he said that we could find a public launch ramp but he would try to sail with us out of the Boat Club so that we could be his guests. He was able to swing it. Barb, Steve and I had the boat rigged and ready to launch by the time he got there. It was only the 2nd or 3rd 70 degree day that they've had this year and it was blowing 17-20 off shore.  Since the Kramers invested in a Torqeedo motor, we motored up the canal to the Quaker Steak and Lube for lunch.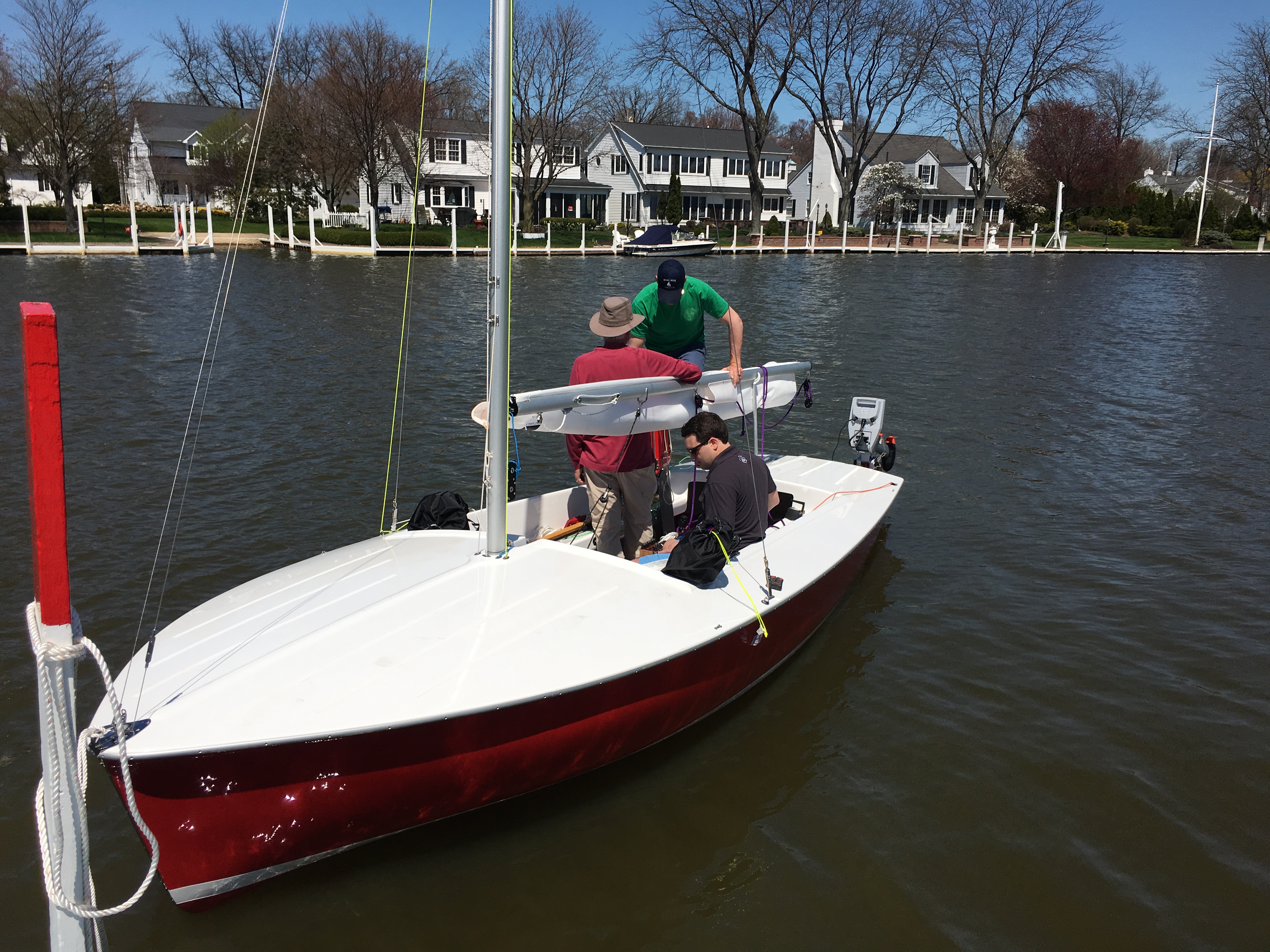 Lunch was a great experience for all of us. The boat got lots of looks, oohs, and ahhs as she majestically pulled up to the restaurant dock. After a great lunch, in which Steve and I had to arm wrestle to settle on who would pay, (he won – thanks for lunch Steve) we headed for open lake Erie.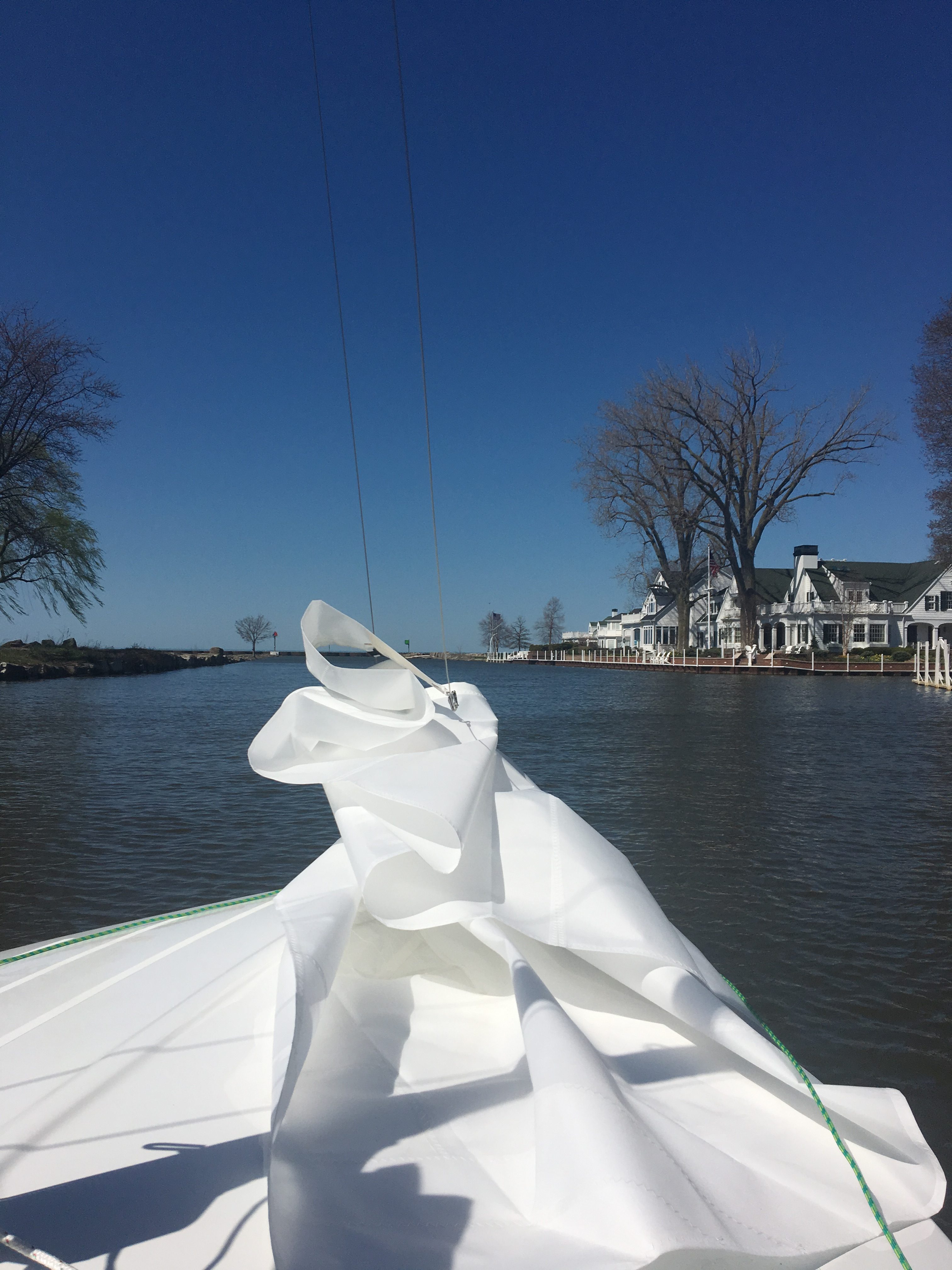 After motoring about a half mile to the inlet, we turned toward the lee of the shore to get the sails up. Main up, motor off and tilted up, Barb, Steve, John and I, were almost planing on our way out to the big waves and wind with Steve at the helm for the first time in 18 years. I thought that we would be planing if we put the jib up and I was right. The new owners were ecstatic. John began putting his bibs on in preparation for the turn to windward. I said I was tired of winter and winter weather sailing gear and I was staying in my shorts and tee-shirt. We trimmed in and Steve headed us into the waves well, keeping us mostly dry with the occasional splash from a rogue wave. I thought that pulling the weight of the board up and thus back would help with the splash since we were not racing up wind. I was correct. The new boat handled gusts to 20 and Lake Erie chop and was almost completely dry after we pulled the board up a bit. We went about 1.5 miles out and then tacked. Barb and Steve were promised we'd do our best for a spinnaker demonstration, and we intended to make that happen. We never questioned putting up the spinnaker – even when a gust of 20 rolled through up wind.
After beating back for the 1.5 miles we gave John the helm of the Scot for his first time. John's an ODU grad and avid sailor. He wanted the helm, which I knew he could handle with the spinnaker up.
We put the pole on, Steve pulled his new spinnaker up, and I grabbed the sheets,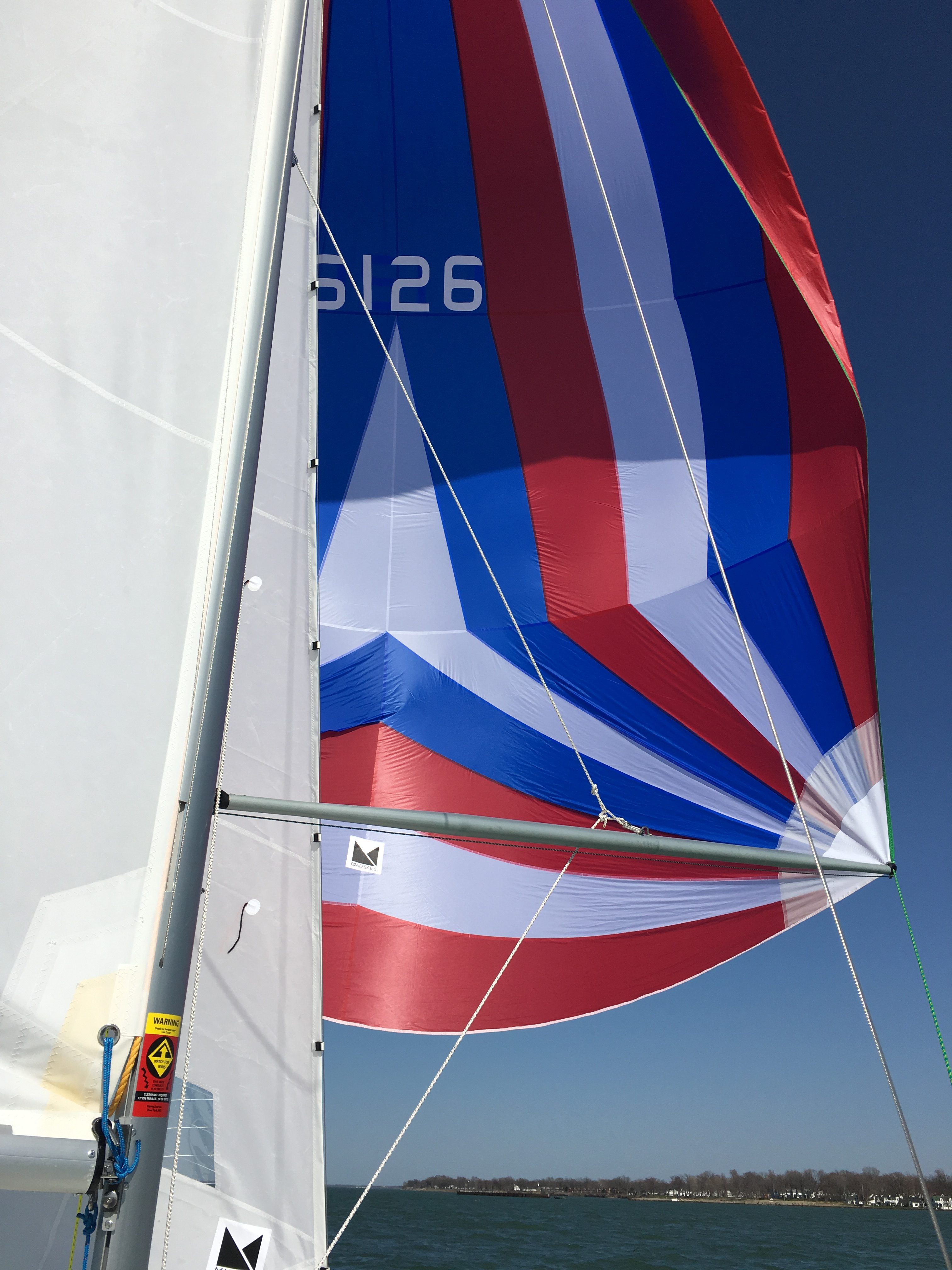 which immediately loaded up big time.  Something was wrong, as I had no ratchet on my spin sheet, but we had the chute up and full. We immediately starting planing and surfing dead down wind. I thought maybe the spinnaker block had been installed backwards because it was extremely hard to trim, but I could handle it and we were fine. We later found out that I had not rigged the spinnaker sheet though the block at all underneath the seat. It was merely ran though the bushing, creating a ton of friction and giving me no mechanical advantage. We sailed for a couple of miles downwind and then said that we would demonstrate a gybe.  As we started preparing I realized that John had never gybed a Scot before. I mentioned it so that we were all on our toes. Once the pole was off, John wanted to gybe immediately.  I was still explaining the process when he was asking for the boom across. We began the gybe and my thought was to stay dead down as we gybed but as I had not heeded his order to throw the main right away, he drove through the gybe so we healed a little bit. No big deal – he and I both knew that we were totally in control – and Barb and Steve trusted us when we told them that all was well. The spinnaker collapsed, but we got her right back. We put the pole on and sailed for another quarter mile before dousing and heading home. Thanks to Heidi Backus (famous sailor) for taking this picture from shore.