North American Championships Debrief
Wow!  What a week!  Last week 68 Flying Scots converged on Sandusky Sailing Club in Sandusky, Ohio to compete in the North American Championships.  Since Tyler grew up in the Midwest he had sailed in Sandusky and the surrounding areas often as a junior competing in ILYA events but this was my first time sailing at this venue.  It did not disappoint!  The club rolled out the red carpet to make us feel welcome and the regatta organizers did a fantastic job keeping everything moving smoothly.  Even measurement was quick and painless for all which is a testament to good planning and execution by Tom Dawson and his measurement committee.
The weather showed up bringing big breeze for pretty much the entire regatta.  Despite being a fairly light team, we managed to keep the mast in the air and get around the buoys earning a 2nd place overall in the Championship fleet behind the very esteemed Jeff and Amy Linton.  Now that we have had a chance to come home and decompress we decided to debrief Sunday morning over a cup of coffee on the screened in porch.  Once we made our "top three" list I thought I'd share our take-aways with you all.
– Practice
I will admit – this one got a fair amount of eye rolling from me when Tyler suggested it.  In my mind, I've been crewing on a Flying Scot for over 30 years so how much practice do I need right!?!  Well, I was wrong (See honey, I put it in writing!  :P)  Tyler insisted that we sail at least one weekend together on our home waters of Deep Creek Lake to work out the kinks.  As it turned out that weekend was super breezy – I heard some puffs were coming through around 27.  We didn't know it at the time but that set us up nicely to feel more comfortable sailing together in the big breeze at the big dance.  In addition, we also went out for a brief practice sail on Saturday to check out the new sails and shake out the boat since we hadn't sailed her together.  Zeke Horowitz of North Sails was also super kind and brought out his brand-new Scot to try and do some speed testing with us.  It was already blowing so we weren't able to do much but we were happy to just get out on the water for a bit.  By making the time for this short sail we were both able to relax and focus on other aspects of the regatta without feeling anxiety about being unprepared.
Along these same lines, Tyler also got me into the habit of heading out to the race course earlier than I am used to.  I am a long-time subscriber to the "splash and dash" method and in smaller regattas we still subscribe to it but with such a large event and a predicted long sail to the racecourse we left the dock early enough to ensure that we could sail upwind and get our numbers and draft our game plan for the day.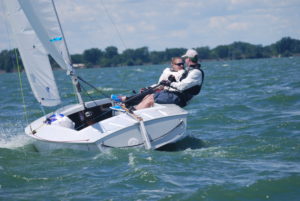 – Never Give Up
The last day of racing brought us inside the smaller bay with shifting winds and a windward mark up under the city.  We headed out early enough to get our numbers and draft our plan which was to go right – especially when we heard the weather mark boat say "Every time there is an increase in the breeze it is coming from the right."  We ended up left.  This earned us a third from last place going around the first weather mark.  We picked up a few boats downwind but nothing to get very excited about and by the time we got to the second beat with only a downwind run to go I had pretty much given up and accepted that we would no longer hold second place in the regatta and would be lucky to even break the top ten.  When we got to the top half of the beat Tyler put on his motivational speech hat and told me that the race isn't over until it's over and we just need to sail our best and see what happens.  Giving up is not sailing our best plain and simple.  We set a goal going into the regatta that we would sail hard and do our best each race and where we finished was secondary.  Even if we were dead last if we sailed hard, did our best, and functioned as a team we would have achieved our goal.  After this speech, I acknowledged that he was right, pulled in my pouty lip, put on my big girl pants, and re-engaged with the race.  Wouldn't you know when we came around the top mark to go downwind for the last time we bore off and went straight at the mark while everyone else jibed and set.  A huge lefty came in, we were first in line for it and we ended up 6th overall.  Never give up!
– Race the Course
I once heard Flying Scot sailor and sailmaker Bill Draheim say in a chalk talk that he races against the course, not other boats.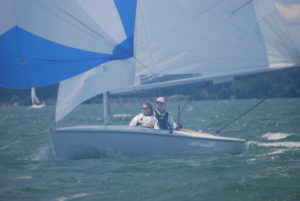 This concept really resonated with me and on the last day of racing we found out what happens when we abandoned that philosophy.  As I mentioned earlier we had our plan – go right!  But we allowed ourselves to get sucked into where other boats where on the race course and looking at what they were doing and allowing them to dictate our next move.  Had we stuck with our plan, played the shifts, and sailed the course we probably would have not had to dig back from so deep and saved ourselves a lot of angst in the process!
So, there you have it – our top three lessons learned from this year's NAC.  I hope you have found this helpful.  If you have any questions or have any topics you would like to see us cover in later blog posts please let us know!  Sail fast!