RECONDITIONED BOATS - FIVE YEAR NEW BOAT WARRANTY
Factory Certified Boats are coming in for reconditioning. However, a new boat is advised. A new boat comes with new sails, new trailer, everything is new and hassle free. The wait time is less, you will be much happier with your boat for years to come. If a new boat is not in your price range then please call to discuss the used boats that we have coming available.
FS 5152 - Sold
FS 5152 - Built in 1997 - Teal with white deck and white bottom with mahogany centerboard cap.  Race rigged with 1 set of used Mad Sails (main jib and spinnaker).   Boat finished 2nd at the 2018 Flying Scot North American Championship.  Accessories include top and bottom covers, mooring cover, new rudder blade, JCD tiller extension, rudder and tiller bags, lifting bridle, anchor, paddle, throw-able cushion, new carbo boom blocks, new 2:1 jib sheets, 1/8" forestay and three cup holders.  $13,700
USED BOATS - FACTORY INSPECTED- AS IS, NO WARRANTY
Used Brokerage Boats are also coming in for re-sale. Again, new boats are most advisable, because while buying used from the factory is a good insurance policy, buying new is a guarantee that you will be sailing your new boat with ease for a long long time.
FS 3788
FS 3788 –Built in 1983 – White hull and deck with blue waterline. The boat is in great condition for daysailing. It comes with a main and jib that still have plenty of life left in them. The boat also includes new main & jib halyards, a tent cover, and Master Helper. The galvanized trailer is suitable for storage as is but would need about $500 in refurbishment to be road ready.
                                         $6,750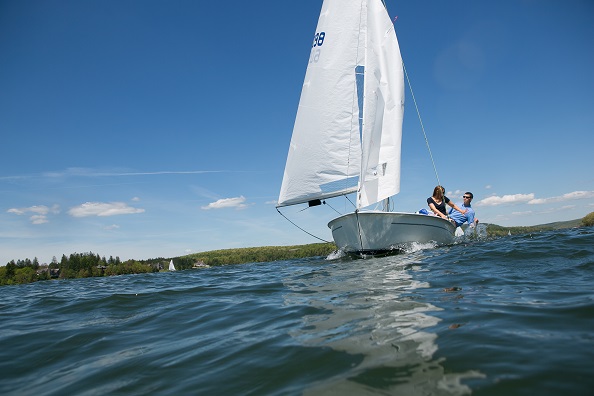 FS 5248
Built in 1998 – White hull and deck with navy blue waterline and trim stripes.  Race rigged with 2 suits of sails (main and jib) and one AirX radial spinnaker (white and blue).  All sails are weekend race quality.  Boat is Harry Carpenter's personal boat and has finished in the top of the fleet in multiple national events and has won a North American Championship.  The price does not include a trailer. $14,000